Abortion Law Blocked in Mississippi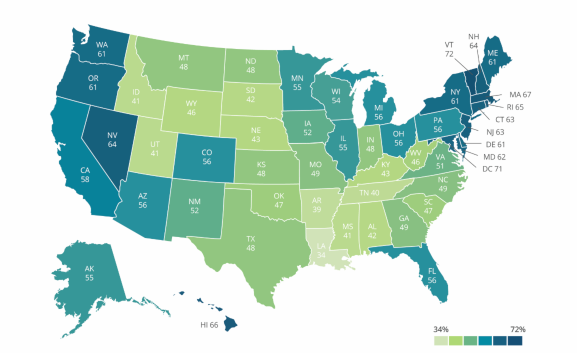 Abortion Law Blocked in Mississippi
PRRI data shows that Mississippi is among the states with the largest amount of people (22%) who believe that abortion should be illegal in all cases. Only Louisiana, at 23%, ranks higher. This week in Mississippi, federal judges have blocked a law that would ban abortions from occurring once a fetal heartbeat had been detected. According to the ruling, the judges unanimously agreed "that cardiac activity can be detected well before the fetus is viable." "If a ban on abortion after 15 weeks is unconstitutional, then it follows that a ban on abortion at an earlier stage of pregnancy is also unconstitutional," judges from the 5th U.S. Circuit Court of Appeals wrote. The Center for Reproductive Rights, which sued the state over the bill, celebrated the ruling in a tweet on Thursday. "A few hours ago, we won our case challenging Mississippi's 6-week abortion ban at the Fifth Circuit," they said. Across the United States a majority (54%) of Americans believe that abortion should be legal in all (23%) or most (31%) cases, while four in ten (40%) believe that abortion should be illegal in most (25%) or all (15%) cases. In Mississippi, a majority (52%) of residents say abortion should be illegal in all or most cases, while 41% say it should be legal in all or most cases. Six other states — Georgia, Kentucky, Louisiana, Missouri, Alabama, and Ohio — passed similar abortion bans last year, which have all been blocked by federal courts. Abortion opponents hope these bills will spark court challenges that will lead to a reconsideration of Roe v. Wade.
Abortion Law Goes Forward in Florida
In Florida, a law that would require parental consent from those seeking abortions is expected to be signed into law by Republican Gov. Ron DeSantis. "What we are talking about is a child, and here were are talking about a child who is carrying a child," explain bill co-sponsor and Republican Rep. Erin Grall. "By including parents in this decision we empower the family. It is the critical backbone of our civilized society." According to the Associated Press, debate over the bill went nearly four hours before a final vote of 75-43, mostly along party lines, was cast. Florida will join 26 other states in requiring the signature of at least one parent before someone gets an abortion. If a doctor does not have the approval of one parent of a patient under eighteen, they face up to five years in jail. Florida is among only two states in the South where a majority (56%) of residents support abortion legality.