Abortion Battle Highlights America's Deepening Partisan Divide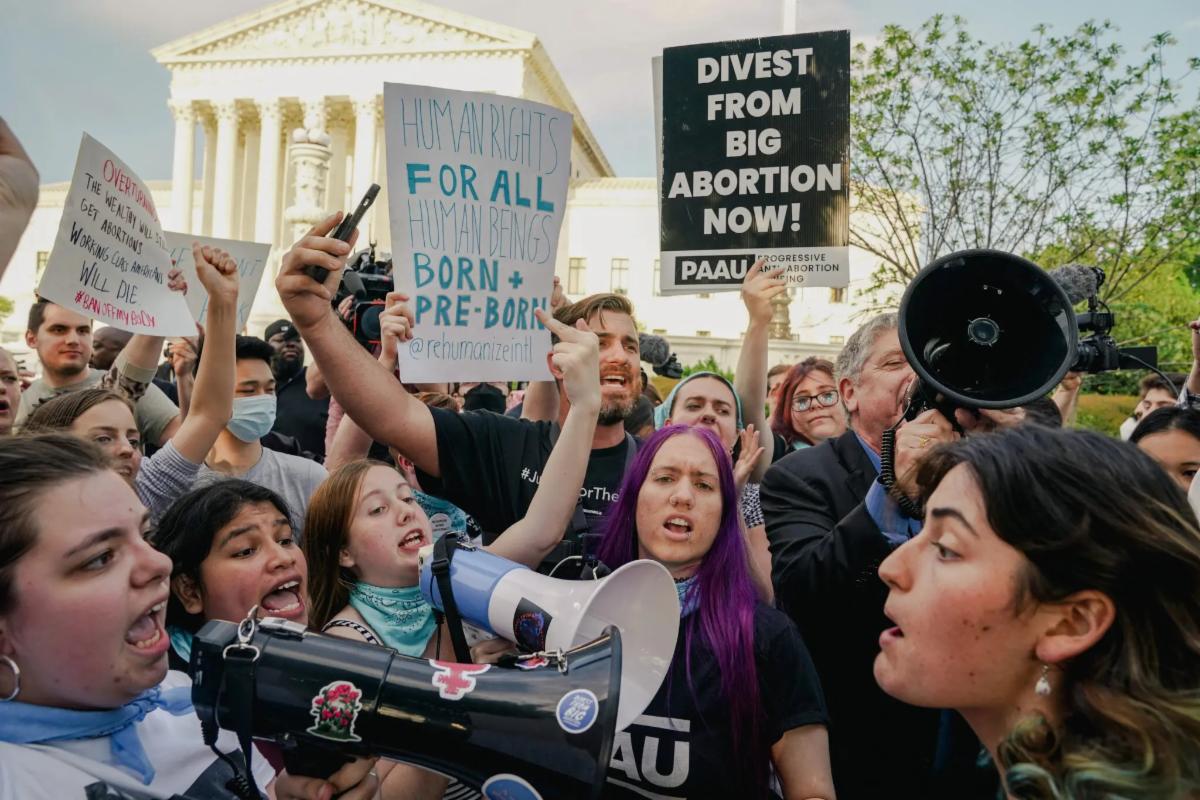 Abortion Battle Highlights America's Deepening Partisan Divide
Peter Baker for The New York Times writes that, while the United States has been drifting apart for years, a draft abortion opinion leaked from the U.S. Supreme Court has the potential to open the chasm even wider. If Roe v. Wade is overturned, all 50 states will be allowed to decide on the legality of abortion; Baker notes that amidst this decision, crossing state lines to have an abortion, or helping someone do so, could become a crime. Unsurprisingly, depictions of states eliminating critical race theory from classrooms, or those with lax pandemic policies, and even the Electoral College map "would fit neatly atop" maps showing the states ready to ban abortion. "The populous Northeast, mid-Atlantic seaboard and West Coast form one like-minded bloc, while the South and most of the Mountain West form another, with the Midwest split between them," Baker summarizes.
Noting that Americans currently are more divided along ideological lines than at any point in the last 50 years, Baker cites PRRI data finding that 35% of Republicans and 45% of Democrats said they would be unhappy if their children married someone from the other party, up from 4% for each in 1960. Another study found that the number of cross-party marriages fell by half between 2016 and 2020, dropping from 9% of marriages involving couples from opposite parties to just 4%. In February, the New York Times reported that another study found that Democrats and Republicans in Congress are further apart ideologically than at any point in the last half-century, with only a few dozen House districts being truly competitive due to both sides "redistricting themselves into safe seats." Lilliana Mason, a political scientist at the SNF Agora Institute at Johns Hopkins University, stated: "Our realities become different. The people we surround ourselves with have completely different narratives about what's happening in America."
---
Guns in Campaign Ads Contribute to 'Rise of Violent Rhetoric'
Eric Berger for The Guardian reports on former Missouri Gov. Eric Greitens, who is now running for U.S. Senate, posting a Twitter video with his campaign logo last month of himself and Donald Trump Jr. firing semi-automatic rifles at a range. At the end of the ad, Greitens and Trump use handguns instead of rifles, and as they fire additional shots, Greitens declares, "Liberals beware." Greitens, who is a former Navy Seal, shared the video despite a contentious background, including his resignation as governor after a woman accused him of assaulting her and tying her up without her consent. Greitens' ex-wife also accused him of "knocking her down and hitting one of their sons hard enough to knock one of his teeth loose, according to an affidavit filed as part of a child custody dispute."
According to an analysis by Bloomberg, mass shooters in recent years have had a history of domestic violence. Greitens' brazenness is exemplary of what Berger describes as "a significant increase among politicians—largely Republicans—in recent years in references to guns and threatening language in campaign ads." Researchers say this type of rhetoric contributes to societal polarization and can translate to physical violence. Berger also notes that the number of threats against members of Congress has increased from 902 in the year of Donald Trump's election to 9,600 in 2021, according to data provided by the U.S. Capitol Police. PRRI found that about one-third of Republicans agreed that, "Because things have gotten so far off track, true American patriots may have to resort to violence in order to save our country," while among Democrats, the number was 11%.
---
Jones: 'The Beloved Community and the Heresy of White Replacement'
In his latest #WhiteTooLong Substack post, PRRI founder and CEO Robert P. Jones reflects on recent travels to Minnesota. While learning about the centrality of demographic and cultural replacement to white supremacy in the United States through a visit to an Indigenous gathering place and burial ground, yet another tragic mass shooting occurred in Buffalo, New York. Jones writes that his visit to Minnesota, including George Floyd Square in Minneapolis—which he described as a "sacred space"—coincided with an outdoor performance of the "Beyoncé Mass," a womanist worship service, curated in Minneapolis by the Rev. Yolanda Norton of the San Francisco Theological Seminary. Although Jones writes that he had not yet heard the news of the shooting in Buffalo, Norton's words, he said, "sustained me when I finally heard that yet another act of racial violence had been committed by a person who looks like me." He quotes Norton, who said, "Repentance is not a one-time thing, but a developmental process, a journey that requires a confrontational truth-telling. The liberation and healing of the oppressed." Jones explains that after the "immediate shock of the shootings abated," Norton's words came back to him: repentance and conversion, the healing of both the oppressed and the oppressor.
He continues: "We [white Christians] must confess our complicity in the heretical and only half-unconscious belief that God has ordained whites to replace—that is to say, to kill and displace—others." PRRI research finds that 52% of white evangelical Protestants and more than one-third of white mainline Protestants and white Catholics believe that America is a "new promised land where European Christians could create a society that could be an example to the rest of the world." Jones concludes, "We have to make a choice between these incompatible visions of America: one that replaces, one that shares; one that kills, one that heals." Subscribe to Jones' #WhiteTooLong Substack here.