AAPI Voters are Influential in 2020 Primaries, Remain Persuadable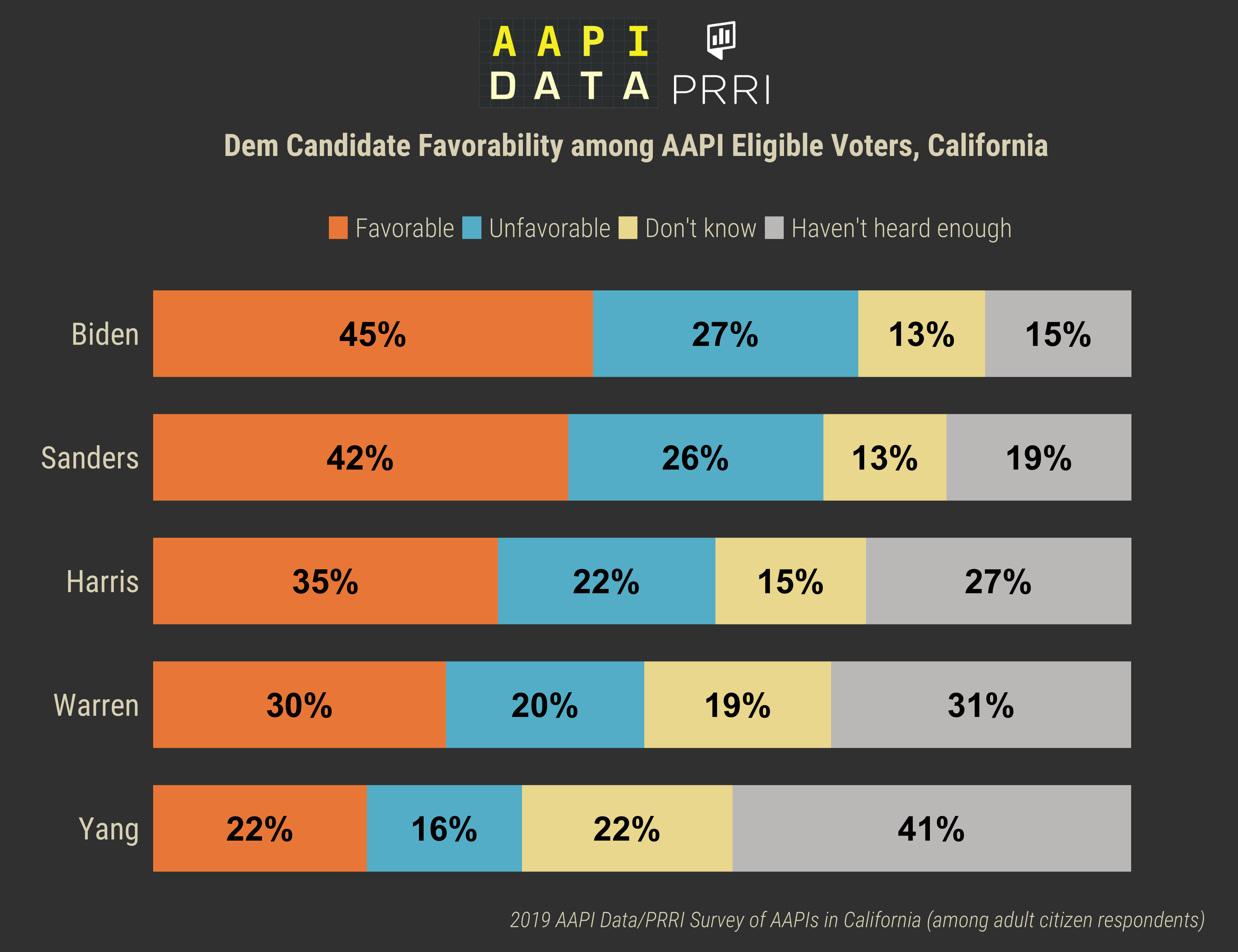 AAPI Voters are Influential in 2020 Primaries, Remain Persuadable
In less than four months, Californians will cast their ballot for the 2020 Democratic presidential nominee. Brand new data from PRRI and AAPI Data indicates that AAPI voters in California have favorable opinions of former Vice President Joe Biden, Sen. Bernie Sanders (I-VT), Sen. Kamala Harris (D-CA), and Sen. Elizabeth Warren (D-MA). Tech innovator Andrew Yang, the only Asian American candidate, lagged behind the other candidates with favorability and name recognition. When comparing Democratic candidate favorability among eligible Asian and Pacific Islander (AAPI) voters, Biden had the highest favorability (45%) and also the highest unfavorability (27%). Notably, Yang had the lowest favorability (22%) and lowest unfavorability (16%). "It is clear that many AAPI voters will be looking for an alternative to President Trump. About 56% of AAPI adult citizens had unfavorable opinions toward the President, compared to 33% who held a favorable view," write Karthick Ramakrishnan and PRRI Public Fellow Janelle Wong. "Only one California AAPI group, Vietnamese Americans, who have long been the most Republican-leaning among AAPIs, were more likely to approve (46%) than disapprove (37%) of the President. Notably, 60% or more of Indian, Chinese, Hmong , and Japanese Americans disapproved of the President." Though Democratic candidates enjoy a high degree of favorability over Trump heading in to the 2020 election, at least a third of AAPI voters said they had no opinion of these Democratic candidates, with the exception of Biden (28%), which could indicate an increased need for outreach between Democratic campaigns and AAPI communities. 
Lifesaving HIV Medications Will No Longer Require a Doctor's Visit in California
Starting in 2020, California pharmacies will no longer require someone to present a prescription for HIV medications. Senate Bill 159, which was signed into law on Monday by California Gov. Gavin Newsom, authorizes pharmacies to supply at least a 30-day supply of HIV medications PReP and PEP, and as much as a 60-day supply to those who ask for it. "PrEP involves the daily consumption of a drug by people who are HIV-negative to prevent them from becoming infected with the virus if exposed to it. PEP is the administration of drugs to prevent HIV infection after a person has been exposed. The drugs must be taken within 72 hours after exposure and continued for 28 days," reports Trudy Ring in The Advocate.PRRI data from 2018 indicates that many Californians have put off seeing a doctor for a prescription because of a financial burden. One-quarter (25%) of California residents report that they or someone in their household put off seeing a doctor or purchasing medication for financial reasons. Workers who are struggling with poverty are more likely than workers who are not struggling to say that they or someone in their household put off seeing a doctor or purchasing medication for financial reasons (42% vs. 16%). According to the California Health Benefits Review Program, the new law that would not require a trip to the doctors to get prescribed could prevent up to 25 cases of HIV in the first year, and see a PReP and PEP intake rise by 2%.
Immigration Arrests Skyrocket in Fiscal Year 2019
New data from the U.S. Customs and Border Protection (CBP) shows a staggering increase in the number of immigrants arrested at the U.S.-Mexico border. Arrests rose 88% in fiscal 2019, totaling to 977,509—the highest number since 2007. "These are numbers no immigration system in the world is designed to handle," Mark Morgan, the acting CBP commissioner, told reporters. Most arrests occurred in May, when more than 144,000 people were arrested. The lowest occurred in September, when 52,546 apprehensions were made—a decrease that Morgan says indicates that immigrants are being deterred from entering the U.S. illegally. "The administration's efforts — they're working. Four short months ago, our daily apprehensions were close to 5,000. And today . . . it's below 1,700," he added. PRRI data shows a slim majority (51%) of Americans favor passing a law that places stricter limits on the number of legal immigrants coming to the U.S., while nearly as many (47%) oppose such a law.
Mixing Religion with School In Tennessee
Brinley Hineman of the The Daily News Journal recently published a piece that recounts Tennessee's long history of mixing school and religion. The Freedom From Religion Foundation, a non-profit organization that defends the separation of state and church, has filed over 50 prayer-related complaints with Tennessee school districts in the last three years. Complaints involve coaches saying prayers before football games, an administrator saying prayers before school board meetings, and teachers co-signing prayer demonstrations. At one event in March, Knox County Schools offered teachers in-service time if they attended a faith-based school event. "Incentivizing employees to attend a religious event by offering in-service time and not disclosing the religious nature of the event is simply coercive and beyond the scope of a public school district," FFRF's complaint reads. According to PRRI data, approximately two-thirds (66%) of unaffiliated Americans believe it is not important for children to be brought up in a religion so they can learn good values. Overwhelming numbers of religious Americans, including white evangelical Protestants (92%), black Protestants (86%), Catholics (81%), white mainline Protestants (78%), and members of non-Christian religions (59%), believe religion is important in instilling good values in children.