Why Evangelicals Profess Steadfast Support for the President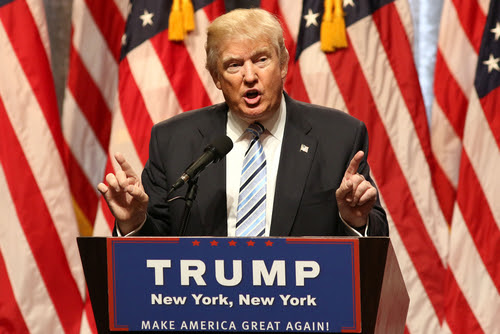 Why Evangelicals Profess Steadfast Support for the President
"The faithful have been ardent supporters who turn a blind eye to the president's moral indiscretions in favor of agenda," writes Tom McCarthy in an article for The Guardian.McCarthy's piece examines why white evangelical Protestants are committed to Donald Trump despite personal blemishes that do not appear consistent with Christian behavior. PRRI founder and CEO Robert P. Jones, who was interviewed for the piece, argues that white evangelical influence in American politics is connected to their voting presence. "They made up 26% of voters in the last presidential election and they voted 81% for Trump. We've been tracking his favorability rating among evangelicals since before the election, and it has been remarkably steady," Jones points out. A 2019 PRRI poll finds that 65% of white evangelical Protestants have a favorable view of Trump.
Is Politics America's New Religion?
In an opinion piece for The New York Times, Susan Jacoby emphatically argues that this trendy adage gets it all wrong. The basic premise of this maxim is that as America increasingly becomes secular, the space that was previously filled by Christianity becomes secular, and a secular religion rooted in partisanship and rancor takes its place. Jacoby asserts that this belief is often used to attack both Trumpism as well as progressivism, while conflating the two dynamics. The writer also argues that while it is true that secularism is on the rise in the nation, it is not necessarily true that religion makes for gentler politics, citing American Christianity's debates over slavery and reconstruction. Jacoby cites a 2018 PRRI poll which found that religiously unaffiliated Democrats were much more likely than religious Democrats to have reached out to an elected official or donated to a political cause or candidate.

The Nation's Political Battles Place Nike Front and Center
The sneaker giant was all set to release a Fourth of July sneaker, a special edition of the Air Max 1 Quick Strike depicting the old Betsy Ross flag. After criticism from company brand ambassador Colin Kaepernick, the company decided to nix the release, angering many on the right who criticized the move as being "anti-American." "The new controversy with Nike is an end in itself, inflamed solely as a border skirmish in a broad culture war rather than as a vehicle for a specific goal," writes Jared Keller in the Pacific Standard Magazine.Keller contends that while conservatives rail against "woke culture" and identity politics, it is Republicans that are the biggest purveyors of the "cult of identity politics." He also cites PRRI's Fate of Pluralism survey in making his point: "Republicans see a 'truly American' attitude as differentiated from Democrats in terms of overwhelming respect for God, capitalism, and American institutions of law and order."
UN Human Rights Chief "Deeply Shocked" by Detention Center Conditions in Texas
Michelle Bachelet, UN High Commissioner for Human Rights, recently traveled to Texas to examine migrant conditions in a detention facility. The UN official said Monday that she was "appalled by the conditions" that migrants were living with upon crossing the border. Bachelet also reserved much of her ire at the treatment of children in the facility, pointing out the specific conditions children face. "[I am] deeply shocked that children are forced to sleep on the floor in overcrowded facilities, without access to adequate healthcare or food, and with poor sanitation conditions," she said. This is not the first time a UN officer has criticized the Trump administration's policies. Her predecessor Zeid Ra'ad al-Hussein condemned the administration last year when he said "The thought that any state would seek to deter parents by inflicting such abuse on children is unconscionable." According to PRRI's 2018 American Values Survey, 72% of Americans are opposed to the Trump administration's policy of separating children from their parents at the border. Politically, nine in ten (90%) Democrats oppose a border policy that separates children from their parents, including more than seven in ten (72%) who are strongly opposed. Less than half (47%) of Republicans are opposed to this policy, while a majority (53%) are in favor.
American Heretics: The Politics of the Gospel
On July 12 at Village East Cinema in New York City, the film "American Heretics: The Politics of the Gospel" will be playing in theaters for a week. The documentary seeks to challenge what we think we know about the Christian heartland by offering a rare and personal glimpse into the contentious and often misunderstood history of religion, race, and politics in America. The film features a number of voices on the subject, including Robert P. Jones.