McLean Pastor Justifies Prayers for Trump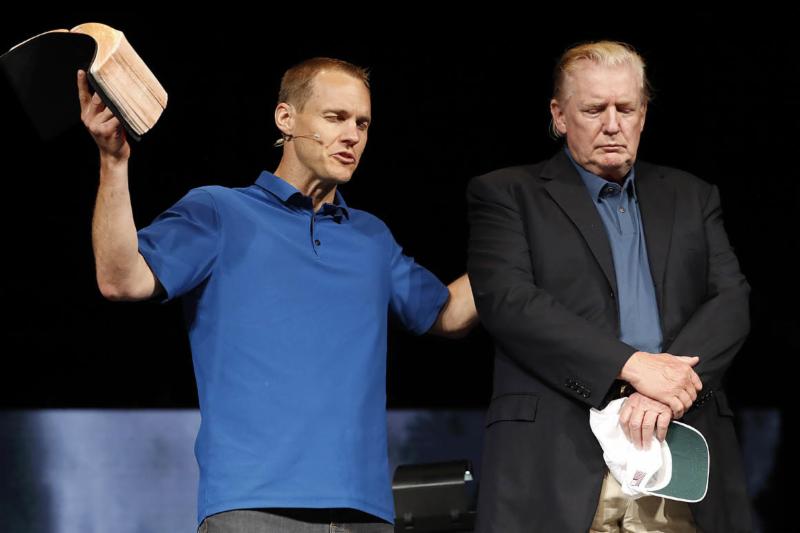 McLean Pastor Justifies Prayers for Trump
David Platt, pastor of McLean Bible Church in Virginia claims he was taken by surprise when Donald Trump stopped by to visit his church last Sunday. The Trump motorcade made an unannounced detour on its way back from Trump National Golf Club in Sterling, Va. The president's spokesman said that Trump wanted to visit with the pastor and pray for the victims of a recent deadly shooting in Virginia Beach. When Trump showed up, he joined Platt on stage, and the preacher prayed for him. Some in the congregation were not happy. "This weighs heavy on my heart. I love every member of this church, and I only want to lead us with God's Word in a way that transcends political party and position, heals the hurts of racial division and injustice, and honors every man and woman made in the image of God," Platt said afterwards. According to PRRI data, six in ten (60%) Americans hold an unfavorable opinion of President Trump, including a plurality (44%) who say their opinion is very unfavorable. Only 36% of Americans have a favorable opinion of Trump, including 14% who say their opinion is very favorable.
John Boehner's Transformation into a Pot Proponent
As speaker of the House, John Boehner was a staunch opponent of marijuana legalization. The former high-ranking Republican is now on the board of Acreage Holdings, an investment firm that specializes in marijuana cultivation, processing, and dispensing. Boehner is a key spokesman for the company as well as for marijuana policy reform. Acreage is attempting to sell itself to Canopy Growth, the largest cannabis company in the world. The deal could create a behemoth partnership in the marijuana industry, and Boehner's advocacy could net him a $20 million payday, the New York Times reports. Key to this transaction taking place, however, is a shift in the nation's marijuana policy. PRRI's 2016 American Values Survey finds more than six in ten (63%) Americans favor making the use of marijuana legal, while 36% oppose this policy. A majority of Democrats (69%) and 46% of Republicans support legalizing marijuana. A majority (53%) of Republicans oppose making marijuana legal.
House Approves Dream and Promise Act
On Tuesday, the Democratic-controlled House of Representatives passed a bill that would grant permanent citizenship for up to 2.5 million undocumented immigrants. The bill, titled the Dream and Promise Act, seeks to provide a pathway to citizenship to DREAMers (undocumented immigrants brought to the country as children) as well as immigrants with humanitarian protections. "Dreamers and those with TPS (Temporary Protected Status) and DED (Deferred Enforced Departure) status are contributing to our country and to our economy, and deserve to have certainty that they will be able to stay with their families in the place they call home," House Majority Leader Steny Hoyer said.PRRI data shows that a majority (57%) of Americans favor allowing immigrants brought to the U.S. illegally as children to gain legal resident status if they join the military or go to college.

Dallas Police Involve FBI After Third Transgender Woman Killed
Earlier this week, the body of Chynal Lindsey, an African American transgender woman, was found in a lake in northeastern Dallas. Lindsey is the third African American transgender woman to be found dead since October 2018. "We are concerned. We are actively and aggressively investigating this case, and we have reached out to our federal partners [FBI] to assist in these efforts," said Dallas Police Chief U. Reneé Hall. Paul Kalburgi, a local playwright who has interviewed transgender women in Dallas, told this to the Post: "These women are victims of systemic abuse, and not just violence. From health care, to legal aid, to employment and housing, those doors are often closed to transgender women and particularly transgender women of color." According to recent PRRI research, nearly two in three (64%) Texans favor laws that would protect LGBT people from discrimination in the job market, public accommodations, and housing.