Trump and Rapinoe Continue War of Words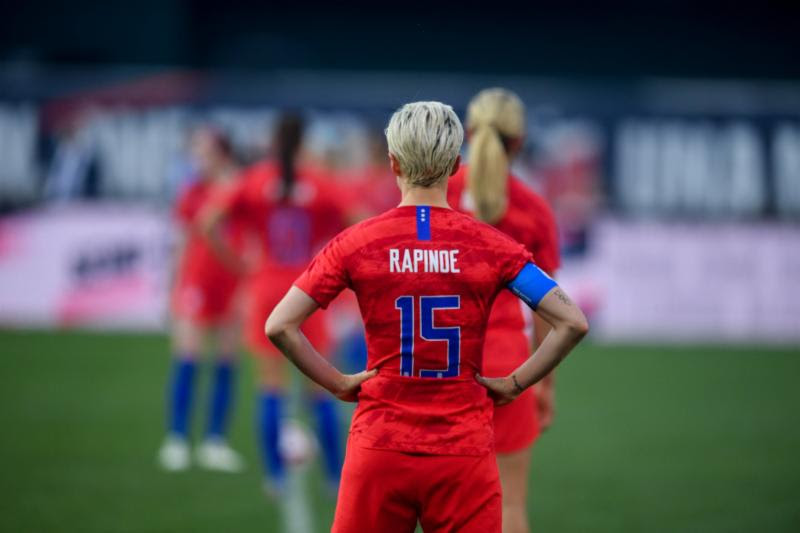 Trump and Rapinoe Continue War of Words
On Wednesday, President Donald Trump continued a war of words with U.S. women's national soccer team star Megan Rapinoe. After Rapinoe said she would not "go to the f*****g White House," if invited, Trump took to Twitter to criticize her stance. "I am a big fan of the American Team, and Women's Soccer, but Megan should WIN first before she TALKS! Finish the job! We haven't yet invited Megan or the team, but I am now inviting the TEAM, win or lose," he tweeted. Earlier in the week, Trump said that it was "not appropriate" for Rapinoe to protest during the playing of the pre-game national anthem. While Rapinoe has previously taken a knee during the anthem, this year she has opted to stand in silence and not sing along while the song is played. PRRI data indicates that half (50%) agree that they should have to stand, while roughly as many (47%) disagree. There is notable disagreement across generations on this question. Seniors are more likely than young Americans to say they believe athletes should be required to stand during the national anthem (65% vs. 35%).

Number of People Who Don't Want to Serve Jews is on the Rise
A new piece atThe Jerusalem Post examines a recent PRRI survey that indicates that one in five Americans feel it is permissible not to serve Jews due to their religious beliefs. "Of those questioned, 19% felt it was permissible to discriminate against Jewish people when providing a product or service," Alex Winston writes. In 2014, 12% of Americans held the same position. Over the last five years, the number of white evangelical Protestants (12% to 24%) and Catholics (10% to 20%) who believe it is permissible not to serve Jews over religious beliefs has also doubled.
Religiously Based Service Refusals Go Beyond LGBT Discrimination
When many people think of religiously based service refusals, it is likely they think of conservatives refusing same-sex couples, according to Kevin Drum at Mother Jones. Drum uses PRRI data to show that religiously based service refusals from conservatives are not solely limited to the LGBT community. "Among Democrats, there's apparently a small percentage margin—around 14-19% of the total—that agree it should be permissible to discriminate against anyone on religious grounds. But among Republicans, it varies. About 18 % say that should be permissible to discriminate against African Americans compared to 47% who say it should be permissible discriminate against gay people. Jews, Muslims, and atheists are in the middle," Drum writes. He concludes, "This suggests that, for whatever reason, there's a liberal bloc that, on principle, thinks businesses should be allowed to discriminate however they wan." In a Wednesday piece for The Washington Post, Paul Waldman attributes the change in attitudes towards discrimination among Republicans to the Supreme Court and the Republican Party.
Photo of Drowned Migrants Shows Realities of Immigration
On Wednesday, The New York Times' front page featured a graphic image of a young girl and her father who drowned in the Rio Grande River. The photo shows Óscar Alberto Martínez Ramírez and his 23-month-old daughter Valeria, who both perished while trying to enter the United States. Julia Le Duc, a Mexican journalist who shot the photo, reports that Martínez had grown "frustrated" because his family had been unable to present themselves to U.S. authorities and seek asylum in the United States. "It's a horrifying image," immigration specialist Maureen Mayer tells the Associated Press. "And I think it speaks so clearly to the real risks of these U.S. programs that are either returning people back to Mexico seeking asylum or in this case limiting how many people can enter the U.S. every day." PRRI data shows that 62% of Americans support allowing immigrants to become citizens provided they reach certain requirements, a number virtually unchanged since 2013 (63%).