PRRI Puts Out New Survey on Support for Service Refusals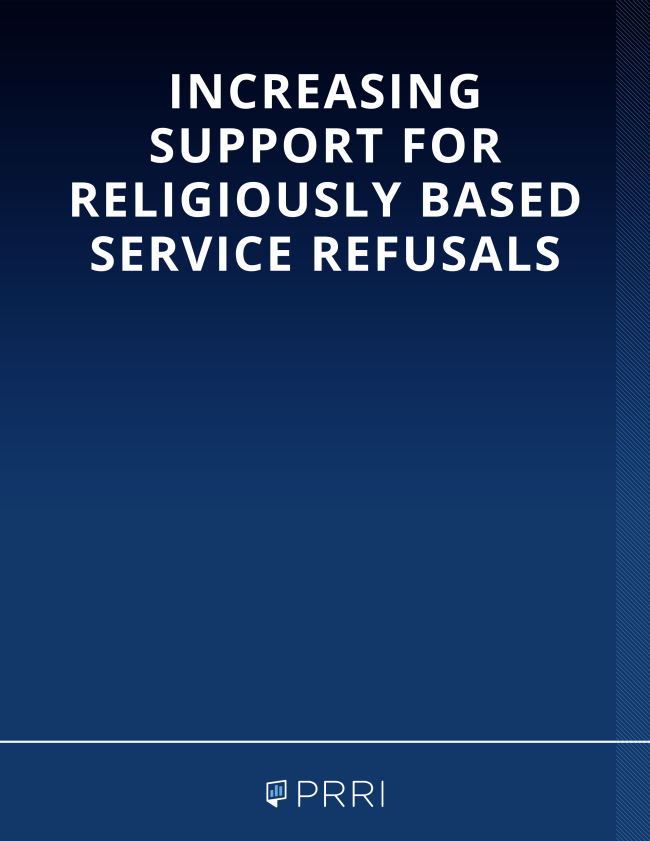 PRRI Puts Out New Survey on Support for Service Refusals
Today PRRI released a new report titled,"Increasing Support for Religiously Based Service Refusals," a new survey examining public opinion on religiously based service refusals. PRRI finds that while at least two-thirds of Americans oppose allowing small business owners to refuse products or services to minority groups based on their religious beliefs, a small but increasing proportion of Americans think it should be permissible to turn away customers based on their sexual orientation, gender identity, religion, or race. "A small but increasing number of Americans think it should be permissible to turn away customers based on their sexual orientation, gender identity, religion, or race," notes PRRI CEO and founder Robert P. Jones. "While legislative agendas and the media has mostly focused on such policies in relationship to the LGBTQ community, this survey indicates that these sentiments about religiously based service refusals extend to other minority groups such as atheists, Muslims, Jews, and African Americans." The survey was conducted between April 9 and April 20, 2019 through telephone interviews. Read the entire report here.

Bernie Sanders Announces $1.6 Trillion Student Debt Plan
Sen. Bernie Sanders (I-VT) recently announced a student debt plan that would eliminate the current $1.6 trillion in student debt owed by tens of millions of Americans. The plan would raise funds for this through a tax on Wall Street business transactions, such as stock trades. Student debt policy has become a much discussed topic in Democratic presidential primary circles recently. In April, Sanders' Democratic presidential rival Sen. Elizabeth Warren (D-MA) released a plan that would cancel up to $50,000 in student debt for most debt holders through an annual 2 percent tax on wealth above $50 million, and a 1 percent tax on wealth more than $1 billion. A 2018 PRRI survey of California workers shows that 22% of those with student debt owe more than $50,000.
Trump Assault Claim Highlights Partisan, Gender Divides on Issue
Longtime advice columnist E. Jean Carroll revealed on Friday thatDonald Trump assaulted her 23 years ago. This revelation, among others, is included in her forthcoming book about her experiences with "hideous men," titled, "What Do We Need Men For? A Modest Proposal." Trump swiftly denied the claim, saying "I don't know anything about her. She's made this charge against others and you know, people have to be careful, because they are playing with very dangerous territory." PRRI data shows significant gender gaps within the parties on this issue. Women who identify as Democratic (84%), independent (72%), and Republican (58%) are more likely than their male co-partisans (69%, 59%, and 47%, respectively) to say unreported or unbelieved sexual harassment or assault experiences are a bigger problem than false accusations.
Trump Calls off ICE Raids While Democrats and Republicans Hope to Find a Compromise
President Donald Trump abruptly called off immigration raids that were set to begin this past weekend. He tweeted, "At the request of Democrats, I have delayed the Illegal Immigration Removal Process (Deportation) for two weeks to see if the Democrats and Republicans can get together and work out a solution. If not, Deportations start!" Democrats and Republicans have been working on a $4.5 billion bipartisan border aid package to help deal with the influx of migrants arriving at the border. According to aPRRI Survey on immigration, Americans agree that the U.S. should provide refuge and protection for people who come to the U.S. when they are facing serious danger in their home country. Three-quarters (75%) of the public affirm this statement, while about one in four (23%) reject it. A recent Spotlight Analysis finds most Americans oppose harsher immigration policies that have been pushed by the Trump administration. Only about a quarter (26%) of Americans favor family separation, while 72% are opposed. Similarly, a majority of Americans oppose building a wall (58%)—which has remained stable over the last two years.