Warren Looks to Eliminate Student Debt Crisis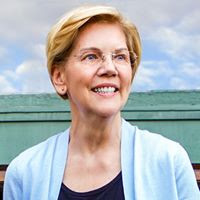 Warren Looks to Eliminate Student Debt Crisis
Sen. Elizabeth Warren (D-MA), along with Rep. James Clyburn (D-SC), will introduce legislation to combat the student debt crisis across the United States. Warren's legislation proposes cancelling at least some student loan debt for 95% of borrowers. The amount forgiven would be based on annual income. "The student debt crisis is real and it's crushing millions of people — especially people of color," Warren explains in a statement. "It's time to decide: Are we going to be a country that only helps the rich and powerful get richer and more powerful, or are we going to be a country that invests in its future?" Zack Friedman of Forbes adds, "Warren's campaign proposal included an Ultra-Millionaire Tax that would include a 2% annual tax on the 75,000 families in the U.S. who have at least $50 million in net worth. However, Warren has not indicated whether the legislative proposal would be funded in the same manner." A 2018 PRRI survey of California workers shows that 22% of those with student debt owe more than $50,000.

House Votes to Block Transgender Ban
The House of Representatives on Tuesday voted 243-183 to block the implementation of President Trump's transgender troop ban. "The president and his administration wrongfully argue that it's about military readiness and unit cohesion, but these arguments are the same ones that were made to keep the military racially segregated," Rep. Anthony Brown (D-MD) explains. "Every service chief testified that transgender service would not disrupt unit cohesion or readiness," he says. The policy bans future transgender individuals from serving in the U.S. military, and calls for current members to serve in their birth certificate gender. PRRI's latest survey shows that 63% of Americans overall support transgender military service, as well as half (47%) of both Trump supporters and Republicans.
Orlando Sentinel: Anyone But Trump Ahead of an Orlando rally that served as the official kickoff to his re-election campaign, the Orlando Sentinel came out against President Donald Trump.
The newspaper published an op-ed saying their endorsement for president in 2020 would not be Trump. "After 2½ years we've seen enough," the editorial board wrote. Save for Lyndon Johnson in 1964 and John Kerry in 2004, the Sentinel has endorsed Republican presidential candidates from 1952 to 2004. The op-ed adds, "Trump has diminished our standing in the world. He reneges on deals, attacks allies and embraces enemies." PRRI data shows that 69% of Americans believe that President Trump has damaged the dignity of the presidency. Vermont Insurers Look to Lower Age for Gender Reassignment SurgeryAccording to the Burlington Free Press, Vermont health insurers are looking into ways to allow Medicaid to pay for people under the age of 21 to have gender reassignment surgery. Currently, if an individual under the age of 18 wants the surgery, they would need the consent of a parent or guardian. Dana Kaplan, executive director of the LGBTQ youth group Outright Vermont, says that these surgeries can save lives. "Here is an opportunity to say you can live the life that is authentically yours," he explains. "Why would we get in the way of that?" According to PRRI data, 62% of Americans say they are more supportive of transgender rights than they were five years ago.