Trump: Millions of Immigrants Are Gone Next Week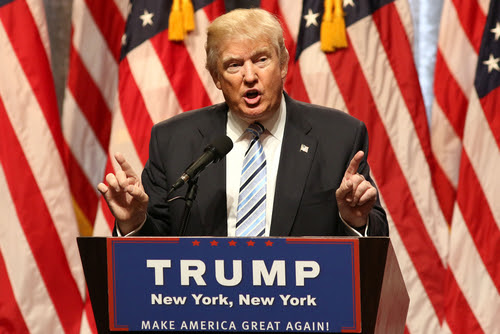 Trump: Millions of Immigrants Are Gone Next Week
According to President Donald Trump, ICE will soon begin the process of deporting millions of undocumented immigrants. "Next week ICE will begin the process of removing the millions of illegal aliens who have illicitly found their way into the United States. They will be removed as fast as they come in," Trump tweeted. According to an anonymous official, the majority of people are those who have already received final notices regarding their immigration status. PRRI data shows that 18% of Americans believe that immigrants should be identified and deported, compared to 62% who believe that the immigration system should allow them a way to become citizens provided they meet certain requirements. Thirty-five percent of Republicans believe that the immigration system should identify and deport immigrants living here illegally, though nearly half (49%) prefer a path to citizenship. In contrast, 72% of Democrats prefer a path to citizenship.
Widespread Support Remains for LGBT Nondiscrimination Laws
A new piece in Bloomberg from Josh Eidelson looks at how the upcoming U.S. Supreme Court docket could impact the future of LGBT civil rights. Eidelson worries that the U.S. Supreme Court could overrule lower court rulings that protect LGBT people from workplace discrimination. Eidelson uses PRRI data to explain the country's overall support for that issues. He writes, "In a survey this year by the Public Religion Research Institute, 69% of Americans—including majorities in all 50 states—expressed support for legislation protecting LGBT people in hiring, public accommodations, and housing."While a majority of Americans back protections, no federal law explicitly prohibits firing workers based on sexual orientation or gender identity. –

Robert P. Jones Explains Growing Support for Transgender Issues
During a recent appearance on thevState of Belief radio program, PRRI CEO and founder Robert P. Jones explains the widespread support for transgender issues discovered in PRRI's latest report. "In every case, there were more people that have become more supportive, than have become more opposed, even among the most conservative constituencies in the country," Jones tells host Rev. Welton Gaddy. Jones uses transgender people serving in the military as an example of growing support for transgender rights. "It really is only white evangelical Protestants that don't support that," he explains. Jones notes that transgender issues are not the only place where white evangelical Protestants stand aside from other religions. "There is this kind of dividing line of white evangelicals standing on one side of the religious divide, and every other religious group on the other."
Texas Passes Law to Shield Citizens from Massive Medical Bills Under Specific Circumstance
Texas Gov. Greg Abbott signed a bill into law this week that will prevent Texans from being liable for large medical costs when a medical provider and insurer cannot agree on healthcare costs. "We wanted to try to take the patients — get them out of the middle of it — because really it's not their fight," Republican state Sen. Kelly Hancock tells NPR. The bill looks to shield Texans from being burdened by massive (and often undue) medical costs. The bill does not, however, shield Texans who have federally regulated health insurance plans, which is roughly 40% of the state. Rising healthcare costs and the need to pay them in a timely manner is not an issue specific to Texas. In a 2018 poll of California workers, PRRI found that a majority (56%) of workers who are struggling with poverty, compared to only 24% of those not struggling, reported that it would be at least somewhat difficult to meet a $400 emergency expense.