Democratic Rep Gets Personal About Her Abortion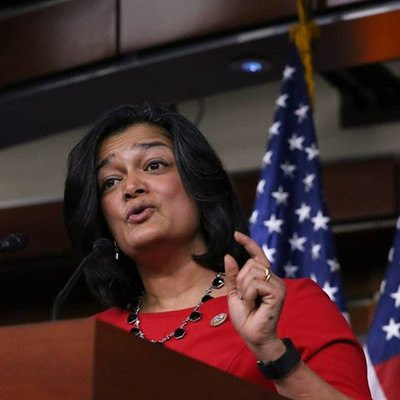 Democratic Rep Gets Personal About Her Abortion
In a recent op-ed for The New York Times, Rep. Pramila Jayapal (D-WA) goes into personal detail about her terminated pregnancy. Prior to her abortion, Jayapal had a child, Janak, who was born premature and endured years of painful health problems. Following Janak's birth, Jayapal was told that any future pregnancy of hers would be extremely high-risk. Despite trying not to, Jayapal became pregnant some years later. "It was excruciating. I wanted children, but I wasn't ready, nor was I fully recovered. I was so grateful that Janak had survived, but I could not tempt fate again," she writes. "I could not simply hope for the best — I had to make a decision based on the tremendous risks that had been clearly laid out for me. I decided I could not responsibly have the baby. It was a heartbreaking decision, but it was the only one I was capable of making." PRRI data shows that 41% of Americans report that abortion is a critically important issue to them. Nearly half (47%) of Democrats say that abortion is a critical issue to them, compared to four in ten (40%) Republicans.
Trump Administration Can't Block Abortion from Immigrants in Custody
A panel of judges of the U.S. Court of Appeals for the District of Columbia Circuit recently delivered a blow to the Trump administration's immigration policy. The court ruled that the administration could not deny abortion access to unaccompanied minors who are in federal custody following an immigration to the U.S. According to Reuters, the "court upheld a lower court decision that found the government cannot unduly burden the ability of a woman to obtain an abortion under established Supreme Court precedent." Were the administration to appeal the ruling, it is unlikely the U.S. Supreme Court would overturn it. Justice Brett Kavanaugh worked on the case while on the appeals court and would likely recuse himself.
Bringing Attention to the Non-Binary Community
In the latest edition of their month-long Pride series, Mashable tells the story of an educator working to give non-binary people more visibility, and comfort. AC Dumlao is a Filipino American, non-binary activist dedicated to telling trans and non-binary stories. On their Facebook page, "Call Me They," Dumlao has amassed thousands of followers. "As a non-binary person navigating the world with non-European facial features and a petite brown body that is cis-assumed, I share experiences of both my social dysphoria and gender euphoria as a way to not only create visibility, but to work through my continual discovery process of what non-binary identity and expression mean to me," Dumlao tells Mashable. Mashable notes that recent PRRI data indicates that "more than six in ten Americans say they've become more supportive of transgender rights in the past five years, compared to 25 percent who have become more opposed."
NPR Examines How Black Voters Feel About Abortion Issues
During a recent episode of NPR's All Things Considered, Michel Martin used PRRI data to frame a discussion about black voters and abortion issues. "Data from [PRRI] finds that just over half of African Americans believe having an abortion is wrong. However, the same data shows 67% of black Americans believe that abortion should still be legal in all or most cases." Eddie Glaude Jr., professor of African American Studies at Princeton University, concludes that for black voters, there is a delicate balancing act of personal preference and overall stance. "It is very clear that people hold certain commitments that abortion is wrong in their personal lives – that for them, they would not choose to have an abortion. But they may very well not hold the view that government should be denying women the right to choose," he notes.