Support for Transgender Rights Increasing in Texas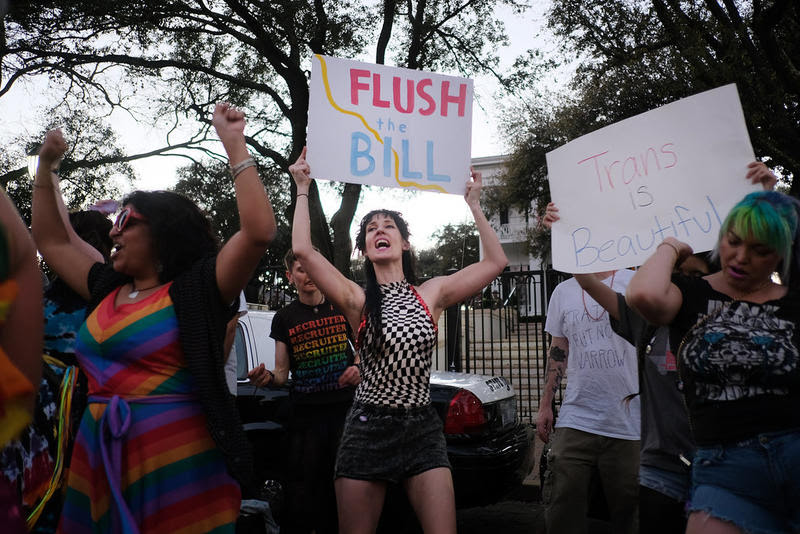 Support for Transgender Rights Increasing in Texas
"The Public Religion Research Institute interviewed 1,100 people, including 150 Texans. Six out of 10 Texans said they've become more supportive toward transgender rights compared to their views five years ago," reports Becky Fogel for KUT, Austin's public radio affiliate. PRRI's survey found that the Lone Star State tracks with the rest of the country, as 62% of Americans say they have become more supportive toward transgender rights compared to their views five years ago. The survey also covered a range of topics including bathroom bills and transgender military service. Speaking to the former, PRRI founder and CEO Robert P. Jones said: "They're divided fairly strongly along party lines on this question, with the majority of Democrats supporting transgender people to use the bathroom of their choice and Republicans opposing that." Fogel points out that a bathroom bill did not pass the Texas legislature in 2017 after pushback from LGBTQ and business groups.
Delta CEO: Abortion Rights Are Not Corporate America's Responsibility
Georgia's restrictive abortion law has drawn pushback from a number of critics, some of whom are calling for a boycott of businesses that operate in the state. Delta Airlines is one major corporation that calls the Peach State home, and CEO Ed Bastian spoke on the issue on Tuesday. "Whichever way you go on the topic, you're going to alienate millions, tens of millions, of people. This is an issue that is uncomfortable. This something that the courts need to settle and resolve, not corporate America. At least for us. I can't win," he said. Bastian also pointed out that unlike Disney, Delta's connection to the state runs much deeper. Delta employs 35,000 people in Georgia. A2018 PRRI/The Atlantic survey shows over one in three Americans have boycotted or purposefully bought something to send a message (36%), while 62% have not.
Attorney General Barr Issues Executive Privilege Threat to Congress
In a letter from the Justice Department that was made public on Tuesday, Attorney General William Barr will petition the president to assert executive privilege concerning documents from the administration's controversial citizenship question on the U.S. census, if Democratic lawmakers move to hold Barr in contempt. "The Committee has a responsibility under the Constitution to conduct rigorous oversight of the Census, and we will not delay our efforts due to your ongoing obstruction," Oversight Committee Chairman Elijah E. Cummings (D-MD) said in response. It was recently made aware that the late Republican strategist Thomas B. Hofeller played a large role in the Trump administration's decision to add a citizenship question to the census, weeks before the Supreme Court is set to rule on the issue. According to a 2019 PRRI survey, there is a strong bipartisan agreement on this issue. More than three-quarters of Republicans (81%) and Democrats (77%) and approximately seven in ten independents (71%) agree that it is at least somewhat likely that the census will not get an accurate count because of this question.
Secularism on the Rise but Spirituality is Too
Twenty-four percent of Americans do not associate themselves with any faith tradition, a 2016 PRRI survey finds. This is an eight point increase from 2011, and this trend is particularly sharp with young people (18-29), where more than a third are unaffiliated. Religion has long provided community, as well as commitment. So what has filled this void? A Vox/Morning Consult poll finds that family and friends have provided the top source of community, with religion and spirituality coming in at second place. The poll also found that despite the rise of religiously unaffiliated people, an overwhelming majority (77%) of people said they believe in a higher being, with a much higher percentage of people claiming to be spiritual (70%) rather than religious (56%). The decline of religious affiliation could be explained by frustration with religious institutions. "I just think most of them [churches] are hypocrites. And with the Catholics and all that sexual abuse stuff, I'm really upset about that. But the church, they won't do anything to stop it," says Bill Dame, a former churchgoer who still believes in God.