Democrats and the Religious Left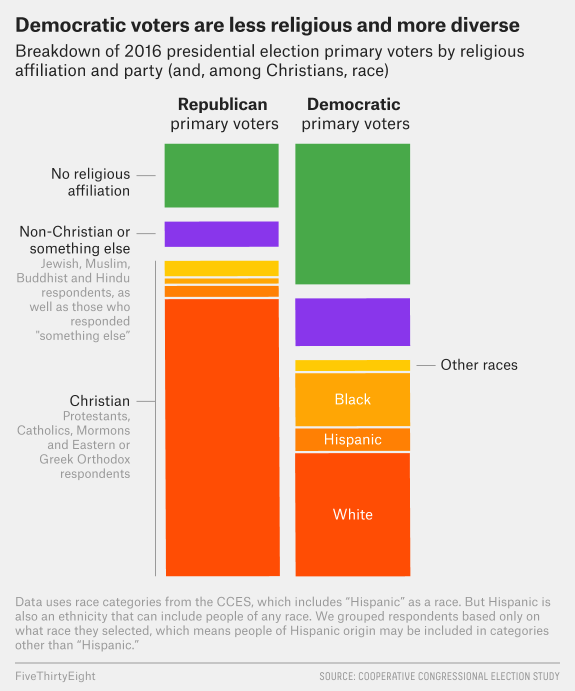 Democrats and the Religious Left
In recent years, Democrats have attempted to develop their own version of "The Religious Left," yet there are dynamics within the party that have made this difficult, write Amelia Thomson-DeVeaux and Laura Bronner in FiveThirtyEight. Although 65% of Democratic voters have some religious affiliation, that number includes a diverse set of religious traditions. "Thirty-one percent are white Christians, 22% are nonwhite Christians, and 12% belong to a non-Christian religious group (Jews, Muslims, Hindus, etc.) or say that their religious affiliation is 'something else.'" Republican voters are much more unified, overwhelmingly identifying as white Christians at a rate of 70%. Speaking to this point, PRRI founder and CEO Robert P. Jones said: "Talking about religion is a much more complicated task when you're trying to simultaneously address white Catholics and black Protestants and Muslim and Jewish Americans. They may not have all that much in common, other than the fact that they identify as religious, which makes them harder to appeal to and organize."
Trump Tweets That Russia Assisted Him in 2016 Election, Then Retracts Statement
On Thursday, Donald Trumptweeted that Russia played a role in helping him get elected, but retracted his statement while speaking to reporters later in the day. The president's tweet comes after Special Counsel Robert Mueller spoke publicly about the findings of his investigation, including the threat of foreign interference in the 2016 election. In his retraction, Trump criticized Mueller, accusing him of being "highly conflicted" and bitter over a lack of job placement within the administration. According to PRRI research, a majority(54%) of the public say outside influence or interference from foreign governments is a major problem. Democrats and Republicans vary significantly when it comes to this issue. Democrats are far more likely than Republicans to say outside influence or foreign interference in the election system is a major problem (74% vs. 30%).

Packing the Supreme Court
Speaking at a Chamber of Commerce event earlier in the week, Sen. Mitch McConnell (R-KY)admitted that he would confirm a Supreme Court nominee in 2020 if the opportunity arose. In his column for The Washington Post, EJ Dionne argues that this is hypocritical given the Senator's position in 2016, when he refused to allow hearings on then president Obama's nominee Merrick Garland. "McConnell will use any method available to stuff the Supreme Court with young, right-wing nominees who will do the bidding of conservative interest groups regardless of what voters say in the next election — or the one after that, or the next one, or the next," Dionne asserts. This view may not be that far out of line with the mainstream Republican Party. Fifty-five percent of Republicans and Republican-leaning independents, and 66% of Always Trump Republicans agree that "because things have gotten so far off track in this country, we need a leader who is willing to break some rules if that's what it takes to set things right."
Utah's Complicated Legacy of LGBT Rights
When it comes to Utah, its record on LGBT rights is full of contradictions, much like the nation, argues Samantha Allen. "In 2015, LGBTQ rights advocates worked with the Church of Jesus Christ of Latter-day Saints on a compromise law that delivered key non-discrimination protections while clarifying certain religious exemptions. Since then, though, legislative victories have been hard-won: a hate crimes bill was signed into law earlier this year, but a conversion therapy ban failed." Allen also points out that Utah is the most "outwardly" conservative state to implement protections for LGBT people, which is noteworthy due to Republican controlled statehouses passing bills like North Carolina's "bathroom bill," as well as the mostly 26 red states that have no LGBT protections on the books. Allen theorizes that some of Utah's success may be a function of mutual respect among partisans, and more LGBT protections may be on the country's horizon due to the generational split that exists on these issues. Citing PRRI data, she writes: "As younger generations of religious people, evangelicals included, show support for LGBTQ rights – a trend that PRRI data backs up. The data indicates that despite the fact that only 54% of Utahans favor same-sex marriage, fully 80% say they would support laws to protect LGBT people from discrimination.