Gillette Ad Featuring Transgender Man Receives Praise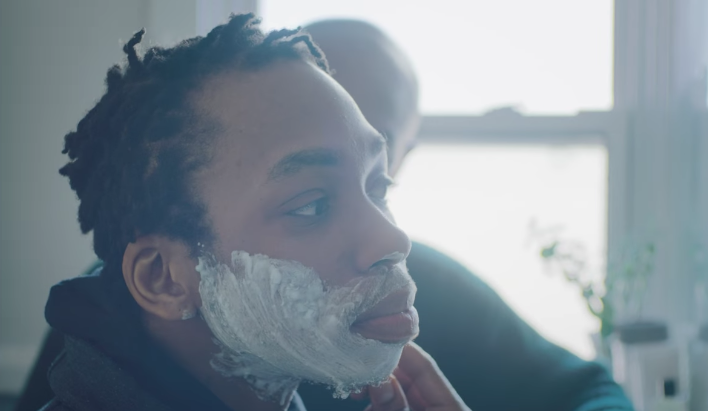 Gillette Ad Featuring Transgender Man Receives Praise
A Gillette razor ad that features a father teaching his transgender son how to shave is receiving praise far and wide. Trans activist Samson Bonkeabantu Brown plays the son. In an interview with CTV News, Brown explains why the commercial is so powerful. "For the black trans community specifically, it is not only affirming but it is a testament to all that we can achieve when we commit to standing in our truth," he says. PRRI data from 2018 shows that 74% of black, non-Hispanic Americans believe that transgender individuals face a lot of discrimination, compared to 57% of white Americans and 59% of Americans overall.
Will Boycotts of Georgia Make it Redder?
In a new piece for New York Magazine, Zak Cheney-Rice posits that Hollywood boycotts of Georgia will only make the state redder. Following Georgia's adoption of a restrictive anti-abortion law, many celebrities and production companies have vowed not to film in the state. Similar boycotts have popped up against businesses with ties to Alabama, another state that recently passed a strict anti-abortion law. Cheney-Rice writes, "Liberal punditry has toyed over the years with the notion that the South is incompatible with 'blue America' and the two would be better off parting ways."Data from PRRI's American Values Atlas shows that 45% of Georgia residents believe that abortion should be illegal in all or most cases, as well as 56% of Alabama residents.
Texas Acting Secretary of State Resigns After Voter Purge Scandal
Months after leading a voter purge questioning the citizenship of nearly 100,000 people, the acting Texas secretary of state has resigned. David Whitley described the purge as an election integrity operation, which ultimately had devastating results. Following a flurry of lawsuits from individuals and voter rights organizations, U.S. District Judge Fred Biery condemned Whitley's actions. "The Court further finds and concludes the Secretary of State, though perhaps unintentionally, created this mess." Texas was far from the only state that had voter access issues in recent elections. A 2018 poll by the Atlantic and Public Religion Research Institutefound that nonwhite Americans are significantly more likely than white Americans (six percent vs. two percent) to report that this happened to them or someone else in their household when they tried to vote in the midterm elections.
Should Public Schools Teach Biblical Courses?
PRRI Research Director Natalie Jackson recently appeared on Hill.TV to discuss the release of a new Hill-HarrisX survey. They found that 12% of Americans support having some sort of biblical literacy class in public schools. Less than two in ten (19%) of respondents don't support schools teaching from religious books. An even smaller number (17%) of people were unsure of how they felt. "Most of the time in polling, we don't see 'unsure' answers close to 20% like it was in this particular poll," Jackson explained. "I just think there's no real consensus right now on the type of policy."