10-year-old Migrant Child Dies in U.S. Custody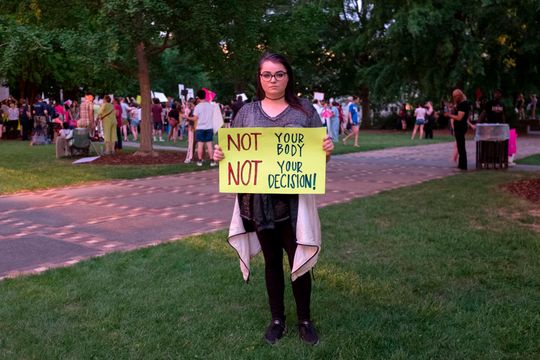 10-year-old Migrant Child Dies in U.S. Custody
An unaccompanied El Salvadoran girl died last September in U.S. custody after being detained at the border. The previously unreported death brings the number of migrant children who have died to six. Coverage of her death came days after news of a 16-year-old Guatemalan teen's death in Border Patrol custody. According to PRRI data, most Americans oppose the passage of a law that would stop refugees from coming to the U.S. Six in ten (60%) oppose passing a law to prevent refugees from entering the U.S., while nearly four in ten (37%) are in favor of such a law. Three-quarters (75%) of Democrats and nearly two-thirds (65%) of independents oppose passing a law that would prevent refugees from entering the country. Only about one-third (36%) of Republicans hold this view. More than six in ten (63%) Republicans favor passing a law that would prevent refugees from entering the U.S.
Conservative Women Aren't a Monolith on the Issue of Abortion
This is the argument advanced by Alia E. Dastagir in USA Today. Dastagir points out that conservative women have abortions, but are excluded from the ongoing dialogue. She cites the American Journal of Public Health's research, writing: "Nearly one in four women in the United States will have an abortion by age 45 — and they don't all share the same values and political views. Cultural stigma can make it difficult for any woman to talk about her abortion, but the particular pressures facing conservative women mean that stigma often equals silence." This can complicate how the nation understands political coalitions, particularly around recent laws in Alabama and Georgia. Per a 2018 PRRI poll, only 22% of Republican women believe that abortion should be illegal in all cases.
Both Parents Are American. The U.S. Says Their Baby Isn't
A decades old State Department policy has come into question in a recent piece in The New York Times. The U.S. government requires proof of a biological link to a U.S.-born parent to become a citizen. For same-sex couples or those who utilize in vitro fertilization, this is not always possible. James Derek Mize and his husband, Jonathan Gregg, are both American citizens. Gregg was born in England and provided the sperm for their daughter, born via a British surrogate. But because she has no biological link to her parents, she is not considered a citizen. "We're both Americans; we're married," Mr. Mize tells The New York Times. "We just found it really hard to believe that we could have a child that wouldn't be able to be in our country."
Last American Slave Ship Discovered
The vessel named Clotilda is the last-known ship to bring enslaved Africans to the United States. Discovered in the Mobile River in Alabama, it is thought to have arrived in 1860, over 50 years after the slave trade was outlawed in the country. "Descendants of the Clotilda survivors have dreamed of this discovery for generations. We're thrilled to announce that their dream has finally come true," said Lisa Demetropoulos Jones, executive director of the Alabama Historical Commission. What makes the discovery of Clotilda unique is that very few slave ship wrecks are recovered. The descendants of the captives on Clotilda created their own community, Africatown, just outside of Mobile.