Kansas Bill Aimed Towards Supreme Court, not State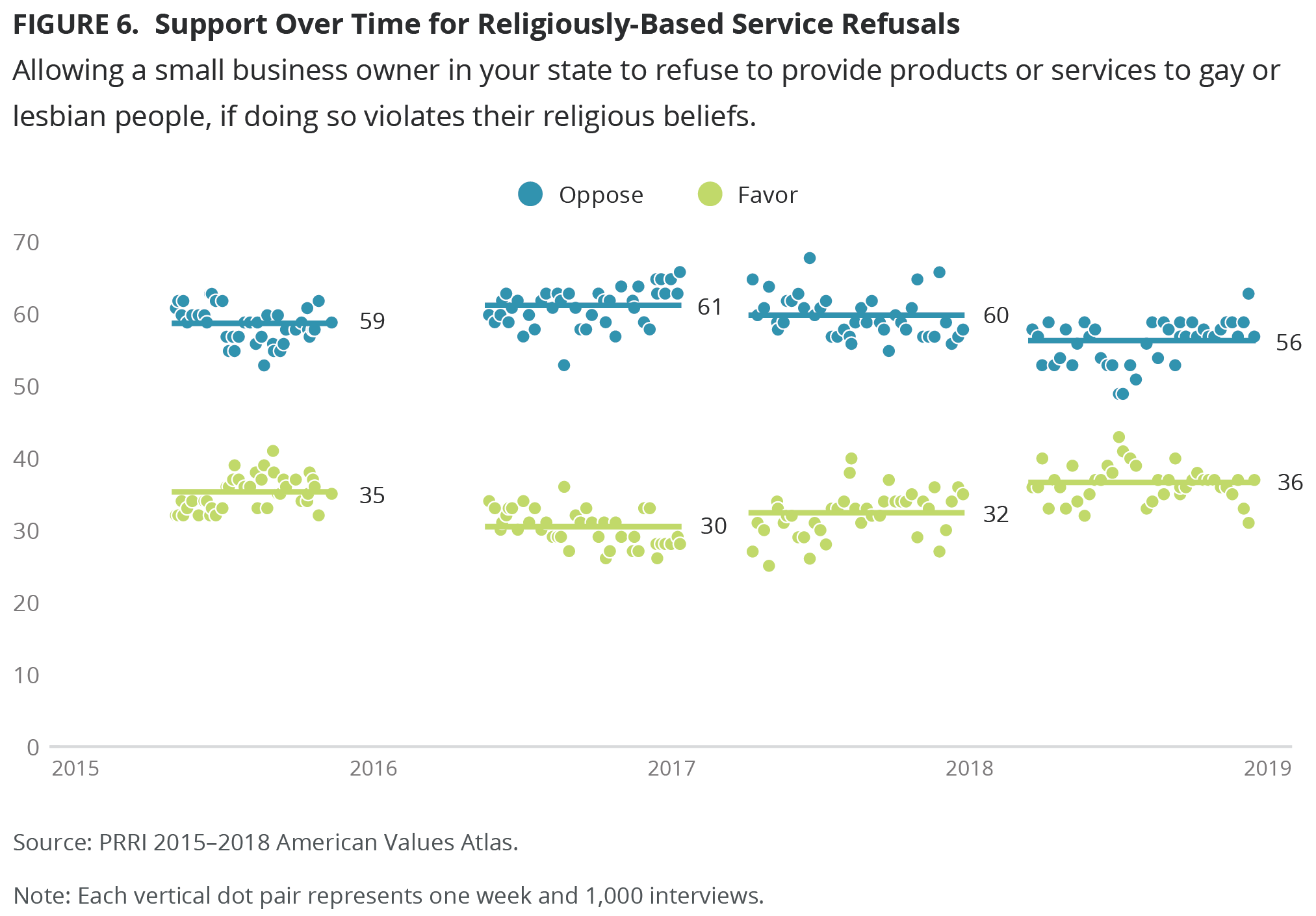 Kansas Bill Aimed Towards Supreme Court, not State
On Wednesday, The Kansas City Star published a column from PRRI public fellow Jenna Reinbold. Reinbold discusses a recently defeated HB 2320. The bill was said to protect the free exercise of religion, but opponents called it an anti-LGBT bill. Reinbold argues the framing of the bill was in response to the landmark 2015 U.S. Supreme Court Obergefell decision. The decision left disagreement among the justices over definitions of words like "secularism," and "religion," Reinbold argues that "In the face of this disagreement, an opportunity has arisen to try to push judges to think of the free exercise logic of same-sex marriage in ways more favorable to religious conservatives." Reinbold also points to PRRI data, writing, stating, " A recent poll from my organization, the Public Religion Research Institute, shows that 60% of Americans now oppose allowing business owners to refuse service to gay or lesbian people, even if providing the service would violate their religious beliefs. (The state of Kansas, at [50%], tracks closely with this national trend).
Democrats Increasingly Considering Impeachment
In the wake of the Trump family's lawsuit seeking to block inquiries into their finances, House Democrats are pondering the course of action they will take. Some are concerned that the Trump family's behavior represents a grave threat to the nation's system of checks and balances. Because of that, more Democrats are taking impeachment seriously. "There are all these streams and creeks of offenses that seem to be converging into a bigger river — impeachment," Jamie Raskin, (D-Maryland) told The New York Times. However, House leadership continues to see impeachment as a last-ditch option. "Several Democrats close to Ms. Pelosi said that impeachment still remained unlikely, cautioning that Mr. Trump's threats alone were not enough to spur such action," the Times reports. Unsurprisingly, attitudes are very divided along partisans when it comes to impeachment, as three-quarters (77%) of Democrats and about one in ten (11%) Republicans say Trump should be impeached. Notably, nearly eight in ten (78%) black women and nearly two-thirds of Hispanic women (64%), compared to only 44% of white women, say Trump should be impeached.
Alabama House Passes Controversial Abortion Bill
The Alabama House of Representatives passed a bill on Tuesday that would make it illegal for a doctor to perform an abortion. The controversial bill, which passed 74 to 3, would also make it a Class C felony for a physician to attempt to perform an abortion unless the health of the mother was at risk. One of the more controversial parts of the bill's legislative process occurred when Rep. Anthony Daniels (D- Huntsville) asked for an amendment to include exceptions for rape and incest, to which the bill's sponsor, Rep. Teri Collins (R-Decatur) refused. As a result, exceptions for rape or incest are not included in the bill. According to PRRI research, Americans generally believe in the legality of abortion. A majority (59%) of Americans believe that abortion should be legal in all or most cases. Almost four in ten (37%) believe it should be illegal in all or most cases. There are sharp partisan divisions, however. Nearly three-quarters (73%) of Democrats believe abortion should be legal in all or most cases, while a majority (57%) of Republicans believe it should be illegal in all or most cases.
Video Depicting White Teens in Blackface Sparks Outrage Among Classmates
A video posted over the weekend on social media depicts a number of white teenagers in blackface. The students attend Homewood-Flossmoor High School, located in Chicago's South suburbs. After the video became public, officials from the local school received numerous complaints from students and parents. Some are calling for the expulsion of the students. In a letter to parents earlier this week, Principal Jerry Lee Anderson wrote: "We are thankful to the many individuals who have reached out to us and shared their thoughts, feelings and volunteered their support and services to assist our school community as we begin building a pathway forward. The diversity of our communities represents our greatest strength and will be the catalyst that brings us together."