Alabama Senate Advances Controversial Near-Total Abortion Ban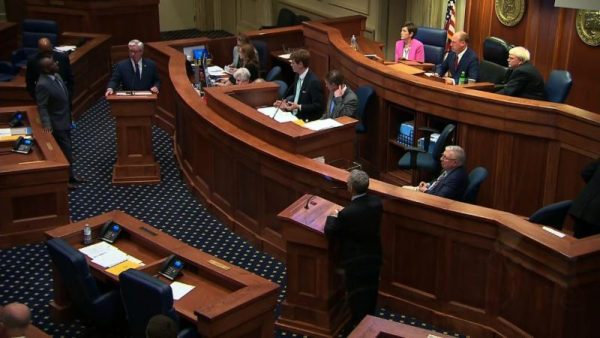 Alabama Senate Advances Controversial Near-Total Abortion Ban
On Tuesday night, the Alabama Senate passed HB 314, legislation that some are calling the most restrictive abortion bill in the country. The bill would ban abortions in most cases, including rape or incest, and would punish doctors for performing an abortion in the state with a sentence up to 99 years. In the wake of the legislation passing, PRRI CEO Robert P. Jones pointed out: "The recent near-complete ban on abortion passed by Alabama lawmakers is markedly out of step not just with Americans overall but even with core parts of the GOP base. Only 14% of Americans believe abortion should be illegal in all cases. Even among white evangelicals, less than three in ten believe abortion should be illegal in all cases; this view is also only shared by one in five Republicans. These numbers have been relatively stable over the last five years." Gov. Kay Ivey (R) is expected to sign the legislation. Alabama will be the third state to advanced highly restrictive abortion bills in recent weeks.
The Rise of the Religiously Unaffiliated?
A growing number of Democrats and Republicans have decided not to be associated with a specific church or traditional faith, and with increasing numbers, this group is becoming a more powerful voting bloc, writes David Byler in The Washington Post. Byler notes that as of 2017, this unaffiliated group made up one-third of Democrats. These numbers match the number of evangelical Christians, according to the General Social Survey. These voters tend to vote Democratic, in large part due to their liberal alignment on key issues. Seventy-two percent of the unaffiliated oppose "allowing a small business owner in [their] state to refuse to provide products or services to gay or lesbian people if doing so violates their religious beliefs," Byler states, citing PRRI polling.
PBS Portrays Same-Sex Marriage in Children's Cartoon
During the premiere of the 22nd season of PBS' show Arthur, the show's writers depicted a key character's same-sex marriage. According to the episode summary, Mr. Ratburn, a long-time teacher on the show, is discovered to be engaged to a man. The episode received some consternation as well as praise, as some celebrated the representation of LGBT individuals on a children's show. Featuring "a gay marriage on a children's television show remains revolutionary," NBC News wrote. According to PRRI polling, more than seven in ten (72%) LGBT young people believe the news and entertainment industry negatively portray gay and lesbian people, and more than eight in ten (83%) believe transgender people are portrayed negatively. A significantly smaller majority of non-LGBT young people believe gay and lesbian people (54%) and transgender people (58%) are depicted negatively in the media.
PRRI CEO Robert P. Jones on LBJ School's Podcast
PRRI founder and CEO Robert P. Jones was interviewed for Policy on Purpose, the official podcast of Texas' LBJ School of Public Affairs. The interview was conducted by LBJ School Dean Angela Evans and touched on the issue of LGBT rights and public policy. The two discussed shifts in racial, religious, and ethnic demographics in Texas and how these changes may influence policy priorities.