Republicans Select Nominee in Tainted Congressional District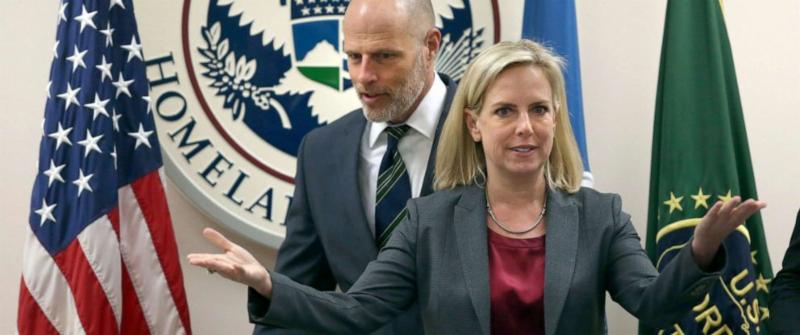 Republicans Select Nominee in Tainted Congressional District
On Tuesday, Republicans selected Dan Bishop as the nominee for North Carolina's Ninth Congressional District in a do-over election after accusations of fraud in the last election, according to the New York Times. Last November, Republican candidate Mark Harris was accused of hiring individuals to collect and potentially manipulate some vote-by-mail ballots. "The evidence will show that a coordinated, unlawful, and substantially resourced absentee ballot scheme operated during the 2018 general election," Kim Strach, the North Carolina State Board of Elections Executive Director, said at the time. The seat has been controlled by the GOP seat since 1963. According to 2018 PRRI polling, 38% of Americans say eligible voters being denied the right to vote is a major problem with the country's election system. However, Democrats are much more likely than Republicans to identify this as a major issue (56% vs. 19%).
Top DHS Officials Challenged White House Plan Before Their Exits
In the weeks before they were ousted, Homeland Security Secretary Kirstjen Nielsen and former acting director of U.S. Immigration and Customs Enforcement Ronald Vitiello challenged a secret White House plan to arrest thousands of parents and children in an operation against migrants in 10 major U.S. cities, Nick Miroff and Josh Dawsey report for The Washington Post. According to witness reports, the Trump "administration wanted to target the crush of families that had crossed the U.S.-Mexico border after the president's failed 'zero tolerance' prosecution push in early 2018," according to the Post. Both Nielsen and Vitiello tried to stop the plan from going forward, concerned about potential public outrage as well as administrative issues with the plan. According to PRRI's 2018 American Values Survey, only about one-quarter (26%) of Americans favor an immigration border policy that separates children from their parents and charges parents as criminals when they enter the U.S. without permission, while more than seven in ten (72%) are opposed.There is a big partisan split on this issue. Nine in ten (90%) Democrats oppose a border policy that separates children from their parents, including more than seven in ten (72%) who are strongly opposed. Less than half (47%) of Republicans are opposed to this policy, while a majority (53%) are in favor.
Georgia Senator Not Concerned Over State Losing Business Over Abortion Ban
In the wake of filmmakers threatening to boycott the Peach State after its recent abortion law, Senator David Perdue (R-GA) says he's not concerned. Speaking to Fox News earlier in the week, the senator said he didn't think that boycott threats would impact the state and declared that "Georgia is rated for the sixth year in the row as the best state in the country in which to do business." The abortion law, signed by Governor Brian Kemp (R-GA) last Tuesday, bans abortion if a heartbeat can be detected. Supporters of the bill are bracing for legal challenges, which could make its way to the Supreme Court for a re-evaluation of Roe v. Wade, the ultimate goal for many anti-abortion activists. A 2018 PRRI found that a majority (56%) of Americans say that Roe v. Wade — the 1973 ruling that affirmed a constitutional right to abortion — was decided correctly by the Supreme Court and should be upheld.
Commerce Department Faces Lawsuit Over Citizenship Question
Restore Public Trust, a liberal watchdog group, is suing the Commerce Department in an effort to gain access to records connected to Secretary Wilbur Ross's justification to add a citizenship question to the census. The group is attempting to show that Ross was misleading in his testimony before Congress about how the census decision was made. Census officials have said that adding the question could undermine an accurate count, particularly among Hispanics. In PRRI/The Atlantic's Fate of Pluralism poll, respondents were overwhelmingly united in whether they thought a citizenship question would undermine an accurate census. More than three-quarters of Republicans (81%) and Democrats (77%) and approximately seven in ten independents (71%) agree that it is at least somewhat likely that the census will not get an accurate count because of this question.