Special Counsel Robert Mueller's Report Publicly Released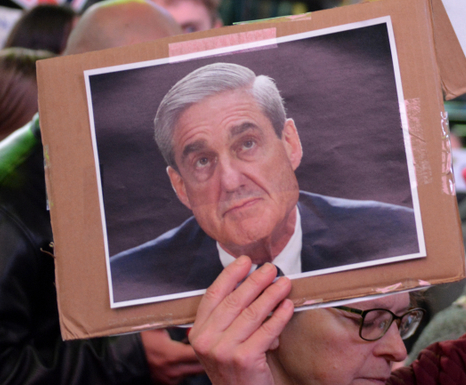 Special Counsel Robert Mueller's Report Publicly Released
After much controversy, Special Counsel Robert Mueller's report was released to Congress on Thursday. Attorney General William Barr held a press conference minutes before the report's release.Democratic leaders, including House Speaker Nancy Pelosi (D-CA), have accused Barr and the Trump administration's rollout an attempt to "spin the public's view" of the report. According to PRRI research, 59% of Democrats, compared to only 17% of Republicans, say their opinion of Mueller is positive overall. By contrast, 71% of Republicans report having an unfavorable view of Mueller.
Austin American-Statesman: "Texas Must Stop Messing with LGBTQ Citizens"
"Republicans in Texas, and other states, keep trying to pass anti-LGBTQ bills. It has to stop," writes columnist Billy McCann in the Austin American-Statesman. McCann discusses Texas' history of passing and attempting to advance bills that would undermine LGBT rights and protections, such as the Equality Act. McCann references PRRI's 2018 AVA poll in examining national and Texan's attitudes on the subject. "A 2018 survey by the nonpartisan Public Religion Research Institute found that 69% of Americans support laws protecting LGBTQ citizens from discrimination. Even in Texas support is high – 66%, according to the survey."
Some States Embrace More Restrictive Abortion Laws
Now that the U.S. Supreme Court leans conservative, state legislatures around the country have begun introducing more restrictive laws on abortion. The "heartbeat bill" recently passed in Ohio, making abortions illegal after a heartbeat is detected in the womb. Michael Gonidakis, president of Ohio Right to Life in Columbus, tells The New York Times. "Now is our time…This is the best court we've had in my lifetime, in my parents' lifetime." There remains the possibility that this law could be overturned in lower state courts, and never quite reach the Supreme Court. According to Gonidakis, "We haven't won but we are winning." According to PRRI data a majority (59%) of Americans believe that abortion should be legal in all or most cases. Almost four in ten (37%) believe it should be illegal in all or most cases.
Crisis at the Border Evolves
This week, Mother Jones details the experiences of migrant families who are stranded in Tijuana, Mexico—one of the most dangerous cities on earth. Author Fernanda Echavarri argues on behalf of families who she says have been put in harm's way by the "bottleneck" at the border created by President Trump. "This backup of asylum seekers is the result of several steps taken by the Trump administration to reduce the number of people entering the country to seek refuge," Echavarri argues. "The White House has effectively limited how many people can apply for asylum at the border on any given day, so people here—including some of the 5,000 or so who arrived in Tijuana as part of migrant caravans last fall—have had to wait for months before they can make their requests." According to PRRI data, there is wide partisan disagreement when it comes to admitting refugees into the country. A majority (52%) of Republicans favor passing a law that would prevent refugees from entering the U.S., while 76% of Democrats and 62% of independents oppose.