Trump Admin Discussed Sending Immigrants to Sanctuary Cities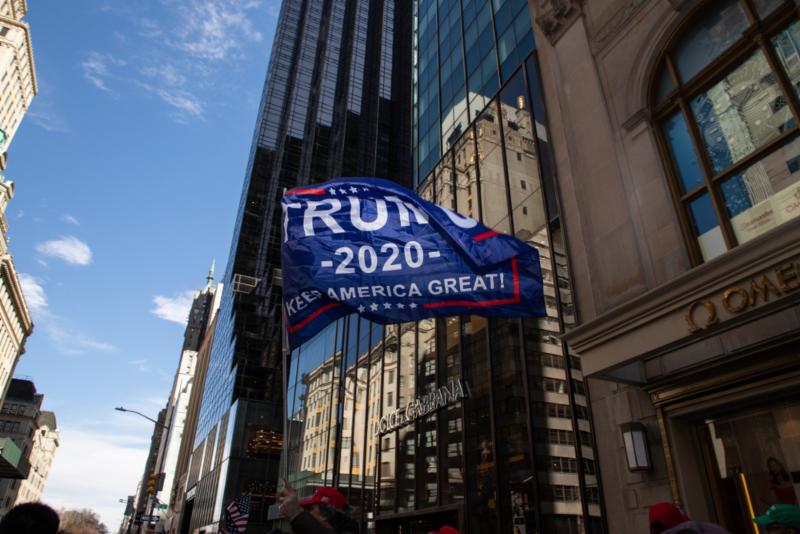 Trump Admin Discussed Sending Immigrants to Sanctuary Cities
As recently as November 2018, officials in the Trump White House considered an immigration proposal that would send undocumented immigrants to sanctuary cities instead of detention facilities. The New York Times has published the contents of an email penned by May Davis, the deputy White House policy coordinator. Davis' proposal would send undocumented immigrants to sanctuary cities run by Democrats, instead of in the temporary housing that has generated so much negative press. "The idea has been raised by one to two principals that, if we are unable to build sufficient temporary housing, that caravan members be bused to small- and mid-sized sanctuary cities," Davis writes. A State Department tells the Times that the proposal did not get very far. When presented with the idea, multiple senior officials cited increase cost, and liability during transport as reasons the administration should squash that idea. A statement from the White House on the matter reminds that the official position of the administration is to capture, not release, immigrants. Recent PRRI data shows that 62% of the country, a number virtually unchanged in 2 years, believes that illegal immigrants should be allowed a path to citizenship if certain requirements are met. Less than two in ten (18%) of respondents believe immigrants should be deported.
Transgender Ban Goes Into Effect
Staff Sgt. Patricia King and Capt. Jennifer Peace appeared on The View this week to discuss the military's ban against transgender soldiers. On Friday, the Department of Defense began to implement a ban on incoming transgender soldiers. Soldiers who identify as transgender will have to choose between their jobs or counseling. "There's a possibility for systematic discrimination," King says on The View. Capt. Peace echoed the sentiments of others by saying that the Trump administration's ban was akin to "don't ask, don't tell." The ban comes less than two years after President Donald Trump surprised the country with a series of morning tweets. "Please be advised that the United States Government will not accept or allow……Transgender individuals to serve in any capacity in the U.S. Military. Our military must be focused on decisive and overwhelming………victory and cannot be burdened with the tremendous medical costs and disruption that transgender in the military would entail. Thank you." In 2018, PRRI found that 36% of Americans believed that President Donald Trump's policies hurt transgender people. In 2017, PRRI found that 64% of the country favored transgender members serving in the military, while 30% opposed, and 6% didn't know.
On Socialism, Generation Z May Depart From Millennial Counterparts
"Coming of age in a world full of "Now Hiring" signs, today's youngest voters could view capitalism much more fondly," writes Conor Sen in Bloomberg. Sen argues that political views are shaped by early experiences and those experiences can mold into a person's ideology and voting behavior as a person ages. Because millennials came of age during the great recession, politicians like Bernie Sanders and Alexandria Ocasio-Cortez have a different appeal than for those that came of age during the roaring '90s. "But while the political views of current 20- and 30-somethings may be starting to harden, those of Gen Z are just starting to be formed. And to the extent we continue on the labor market trajectory we're on, it might mean Gen Z ends up with more centrist attitudes on the economy," Sen says. PRRI polling indicates that 58% of young Americans (18-29) say that socialism is a system of government that provides citizens with health insurance, retirement support, and access to free higher education. 38% of young Americans say socialism is a system where the government controls key parts of the economy, such as utilities, transportation, and communications industries.
Houston Chronicle: Trump is Wrong About the Country Being Full
"By any objective measure, the president is mistaken. There are about 45 million foreign-born people in the United States, including about 11 million who are undocumented. Each year the U.S. grants permanent resident status to about a million, yet America continues to need immigrants for it to grow and prosper," the Houston Chronicle editorial board asserts in a column for the paper. On the heels of a recent visit by the president to Houston, the board notes that the city is one of the most diverse in the country, with a high number of immigrants. The column points out that the city continues to thrive because of it's diversity, challenging the president's recent comments about the nation and whether it needs immigrants. Examining the impact of cultural change in these sentiments among Trump supporters and white evangelicals specifically, the piece cites PRRI CEO Robert P. Jones. "You can see this with support for same-sex marriage, another controversial topic. In 2008 it was 40 percent; by 2016, it's only 4 in 10 oppose. A complete flip. If you are a white conservative evangelical Christian, that is a head-spinning amount of change in a short period of time."