Sanders, Trump, AIPAC, and the State of Jewish American Voters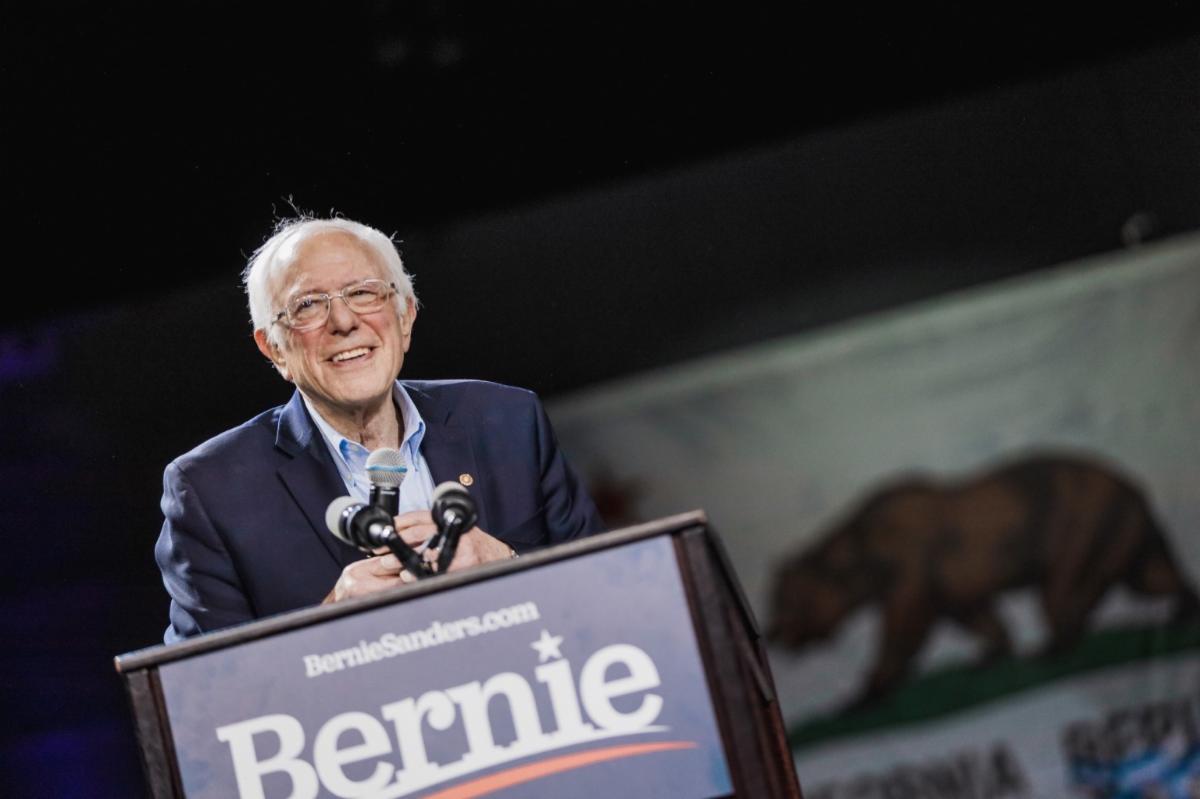 Sanders, Trump, AIPAC, and the State of Jewish American Voters
In recent days, Sen. Bernie Sanders (I-VT) has made his opinion on American Israel Public Affairs Committee (AIPAC), a pro-Israel lobbying group and host of a yearly conference, abundantly clear. Sanders believes that AIPAC is a vessel "for leaders who express bigotry and oppose basic Palestinian rights." Sanders was among several politicians, including President Donald Trump who declined to appear at this year's AIPAC conference. "Their absences this week underscore the increasing threat to the viability of a pro-Israel posture that depends on bipartisanship. Trump who has probably had the closest relationship of any president with an Israeli government, does not need to appear at AIPAC to burnish his pro-Israel credentials. And Sanders is nurturing a wing of the Democratic Party willing to redefine the U.S.-Israel relationship in ways antithetical to traditional pro-Israel postures," writes Ron Kampeas in Forward. Sanders' public comments on AIPAC highlight the state of flux in which a pro-Israel platform exists during the 2020 presidential campaign. PRRI's Daniel Greenberg recently wrote of how Jewish Americans feel about Trump, and how that could impact the 2020 presidential election. "Though Trump has worked to brand the Democratic Party as anti-Semitic and portray himself as especially pro-Israel, a clear majority of Jews nonetheless say they are unfavorable to him with half (50%) saying they are very unfavorable. Across all major religious groups, only black Protestants (78%) and Buddhists (65%) express greater levels of opposition to Trump," Greenberg reports.

SCOTUS to Argue Abortion Case that Could Impact Abortion Availability Across the Country
On Wednesday, the U.S. Supreme Court will hear arguments in June Medical Services v. Russo, the first major test of the conservative-leaning group of judges. The case is similar to a 2016 case argued by a previous iteration of the court, in which the state tried to mandate that all doctors providing abortions also have admitting privileges at a local hospital. Were the court to rule in favor of Louisiana, abortion availability in the state would be decimated. Julie Rikelman of the Center for Reproductive Rights, who is set to argue the case before the court, explains the case to The Washington Post. "Louisiana enacted [the law] knowing that the identical law in Texas had just closed half of the clinics there," Rikelman says. "Nothing has changed that would warrant a different outcome. If the law takes effect, it will mean that abortion is almost inaccessible in Louisiana, even though it is supposed to be a constitutional right." PRRI data shows that about four in ten (38%) Americans overall believe that it is at least somewhat likely that abortion will become completely illegal in the U.S. in their lifetime. Additional data shows that among conservatives, not all are completely against abortion. Liberal Republicans (54%) are more supportive of abortion legality than conservative Democrats (46%). Liberal Democrats (82%) are more supportive of legality than conservative Republicans (68%) are opposed to it.
Biden Receives Major Endorsements ahead of Super Tuesday
Former Vice President Joe Biden was joined by a who's who of Democratic politicians at a Monday night rally in Dallas. Former 2020 candidates Beto O'Rourke, Pete Buttigieg, and Sen. Amy Klobuchar (D-MN) appeared with Biden to announce their endorsement of the former VP. Buttigieg and Klobuchar endorsed Biden mere hours after announcing they would no longer seek the 2020 Democratic presidential nomination. The coordinated endorsements indicate a push within the party to counteract growing interest in Sen. Bernie Sanders (I-VT) before fourteen states vote on Super Tuesday. During the event, Biden appeared to chide Sanders, the current statistical frontrunner. "If Democrats want a nominee who's a Democrat, a lifelong Democrat, a proud Democrat, a lifelong Democrat, then join us. We can either win big or lose big, that's the choice," Biden said. The growing narrative around Sanders is that his more left-leaning brand of Democratic socialism might not be the best representative for Democrats in 2020. PRRI data indicates that people across the U.S. are still unclear of how to categorize socialism. More than half (61%) of Democrats and 55% of independents say socialism is a system of government-sponsored social safety-nets, versus only 43% of Republicans. Republicans are more likely than Democrats to say that socialism is about government control of certain industries (54% vs. 36%)," reports PRRI's David Tigabu.
How Coronavirus Can Impact Lower-Income Workers the Most
For some Americans, taking a sick day or choosing to work from home when they do not feel their best is a privilege that is often overlooked. For many others, not coming into work means not getting paid, or in some cases, being fired. With growing fears over the impact the coronavirus will have in the United States, many employers are preparing contingency plans for employees who cannot be present at their jobs. According to a recent piece in The New York Times, this leaves low-income workers at a disadvantage. "In the United States, some 27.5 million people lack any form of health insurance. That makes them less likely to seek medical care when they become ill or to have access to preventive health benefits that can help them stave off illness. The uninsured are disproportionately low income," the Times reports. Recent PRRI data indicates that one-third (33%) of the nation currently works jobs that pay them an hourly rate. According to more data from PRRI's 2019 American Values Survey, Americans paid an hourly wage (29%) are more than three times more likely than Americans paid a salary (9%) to say it would be very difficult or nearly impossible to afford a $400 emergency expense.