2022 Midterm Was 'More of an Abortion Election Than We Realize'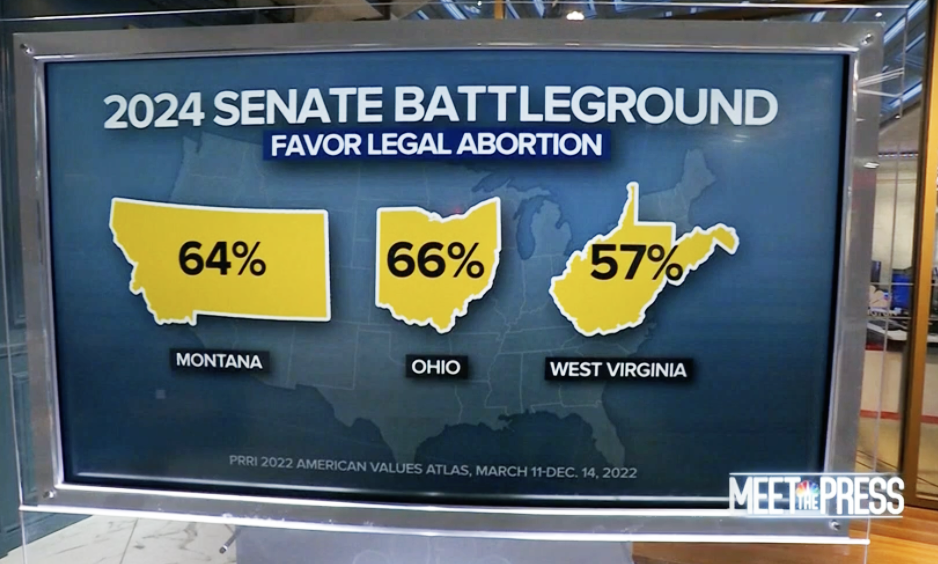 2022 Midterm Was 'More of an Abortion Election Than We Realize'
PRRI's new abortion survey was featured on yesterday's Meet the PressSunday, framing the conversation about the role of abortion in American elections. "The Republican Party has an abortion problem," said host Chuck Todd, saying "that is the unmistakable conclusion of this new national survey of more than 20,000 Americans. It is easily the most comprehensive survey on abortion attitudes we have seen since the Dobbs decision." Todd noted that support for abortion legality has increased in the past 12 years in our polling, from 55% to 64% nationally. Citing the AVA state-level findings, Todd broke down support for abortion legality in numerous presidential battleground states and hotly-contested Senate races, such as Montana and Ohio, in 2024 as well. "I was pessimistic about the Senate map for Democrats, but I see these abortion numbers, and I see a path for [Montana Senator] Tester, I see a path for [Ohio Senator] Brown."
---
'Incredibly Damning': Fox News Documents Stun Some Legal Experts
Paul Farhi, Jeremy Barr and Sarah Ellison for The Washington Post report that the newfound disclosure of emails and texts in which Fox News executives and personalities disparaged the same election conspiracies their show heavily promoted has greatly increased the chances that a $1.6 billion defamation case against the network will succeed. Dominion Voting Systems has provideddozens of messages sent internally by Fox co-founder Rupert Murdoch and well-known newscaster Tucker Carlson. The authors write that Dominion has claimed it was damaged in the months following the 2020 election after Fox repeatedly aired false statements that it was part of a conspiracy to fraudulently elect Joe Biden. Dominion has said that the correspondence between Fox's hosts and executives, some of whom described the voting conspiracies as "ludicrous" and "mind blowingly nuts," proves that Fox knew otherwise but continued to air them to keep their audience's attention. PRRI finds that more than two-thirds of Republicans (68%), compared to 6% of Democrats believe that the election was stolen from Trump. These shares are even greater among Republicans who most trust Fox News (82%).
---
How Big Christian Nationalism Has Come Courting in North Idaho
Jack Jenkins for Religion News Service reports that North Idaho has long been known for where extremists have flocked to wait for the collapse of American society. According to a recent study overseen by Jaap Vos, a University of Idaho professor of planning and natural resources, 1 in 4 Idahoans didn't live there 10 years ago. Bradley Onishi, author of "Preparing for War: The Extremist History of White Christian Nationalism — And What Comes Next" underscores that Idaho has become "the new unzoned land" for residents hoping to remake it in the image of "Christian patriots." Last year, citizens of Coeur d'Alene City Council came forward at the council's public session to express their discontent with COVID-19 restrictions and government interference in general, referencing both as "tyranny." Additionally, many churches in northern Idaho refused to close even as the pandemic continued to thrive, including in September 2020 when members at Christ Church in Moscow, Idaho staged a protest outside City Hall, singing Psalms without masks in defiance of local ordinances, resulting in several arrests.
---
The Importance of Christianity to Black Americans
A new spotlight analysis by PRRI staff examines the history of Black History Month: "[T]he tradition of honoring the history, progress, and achievements of Black Americans in February goes back to 1926, when the celebration was only a week long," though it was only officially named Black History Month in 1976. The theme this year is "Black Resistance," which focuses on the individuals, movements, and organizations that have pushed back against the systematic oppression and discrimination the Black community has faced throughout American history. The spotlight notes that faith-based organizations, and Black churches in particular, are among the institutions that have played a pivotal role in providing safe environments for the Black community and spaces to organize resistance plans. According to PRRI, Black Americans are notably more likely than Americans in general to say that religion is the most important thing in their lives (28% vs. 15%), and this percentage is notably higher among Black Christians (36%).
---
What's Buzzing?
Read the full spotlight, "The Importance of Christianity to Black Americans," here.